earth expo
an exposition of school district 22 student work in honour of earth day 2021
A celebration of
earth day, every day
Welcome to the 2021 Earth Expo – the Virtual Edition!
A Virtual Exhibition featuring artwork and projects contributed by Okanagan Landing Elementary School students in honour of Earth Day 2021.
The Earth is what we all have in Common.

― Wendall Berry
Artwork by Kiera Williams, Grade 3, Okanagan Landing
Artwork by Avery, Grade 3, Okanagan Landing Elementary
restore our earth
This year marks the 51st Earth Day since its inception in 1970. The theme for this year's observation is Restore Our Earth.
Earth Day began in the United States when a group of young activists organized the first event as a "teach-in" for students to focus on learning about the health and sustainability of the environment.
Today, over 1 billion people around the world take part in Earth Day.
Click through the Virtual Galleries below to view the art work and projects of Okanagan Landing Elementary School Students!
Artwork by Mikaela Datson, Grade 4, Okanagan Landing Elementary
global activism
Over the decades, the observation of Earth Day has grown around the globe. Today, Earth Day engages more than 1 billion people in 193 countries around the world.
Each community finds unique ways to create opportunities for civic engagement, social activism and volunteerism.
The Vernon Museum would like to say a HUGE THANK YOU to the talented students who contributed their work to this Virtual Earth Expo!
Thank you for helping us to honour Earth Day, Every Day.
eco: ecological change in the okanagan
Take a trip through the landscape of the North Okanagan to find out how our local ecology has changed over time.
From the shores of beautiful lakes to rolling grasslands to the Monashee Mountains, learn more about the impacts of settlement, ranching, agriculture, and recreation on our landscape.
Learn more about the North Okanagan, the Syilx People of the Okanagan Nation for whom it is been home for thousands of centuries, and how we can all respect and care for this beautiful place.
Contact Us to Access ECO: Ecological Change in the Okanagan!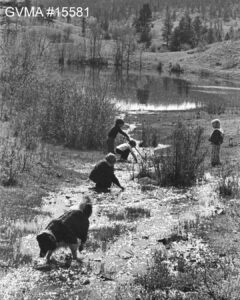 WE RESPECTFULLY ACKNOWLEDGe
Greater Vernon Museum & Archives is located on the Ancestral, Traditional and Unceded Territory of the Syilx People of Okanagan Nation.