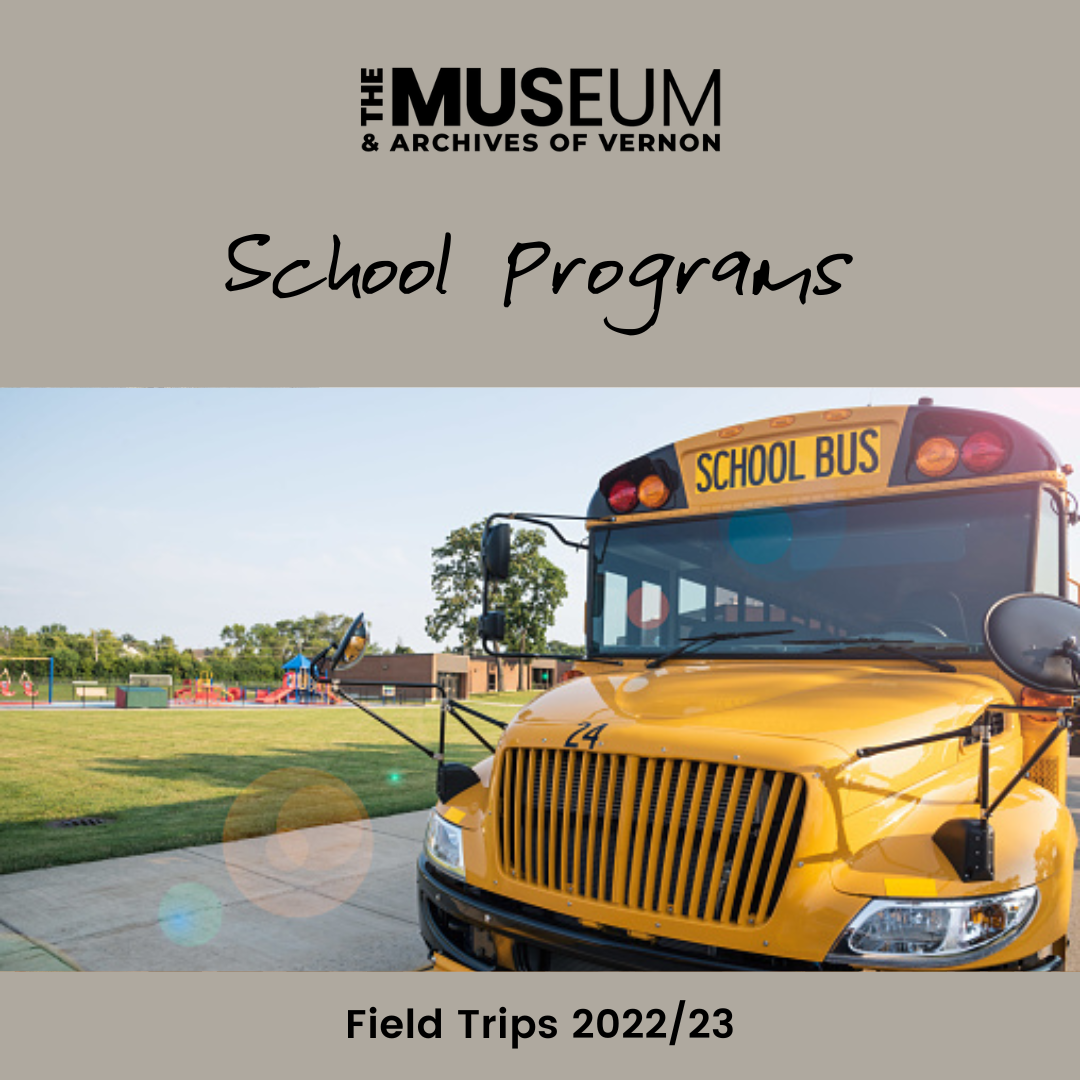 Field trips 2022/23
The Museum and Archives of Vernon offers a diverse range of school programs that will maximize learning outcomes for your students. Our programs are designed to be inclusive and accessible for all students and reflect the "Big Ideas" of British Columbia's Course Curriculum. Please note that additional time can be added to any field trip for inquiry-based exploration of the museum.
Toward Truth
MAV honours the second National Day for Truth & Reconciliation with an exhibit called simply Toward Truth. As Inuit singer-songwriter, Elisapie, says, "I think reconciliation is a very strong word. It's something we want to reach…but I think the work before that, which is 'truth,' I think we should still focus on that first." This exhibit focuses on some of the hard truths of the darker chapters of Canada's History. To quote Senator Justice Murray Sinclair, "There are no shortcuts. When it comes to truth and reconciliation, we are forced to go the distance." Toward Truth will run throughout September and October. MAV will be open for community programming on September 30th, The National Day for Truth & Reconciliation. For additional resources, please click here.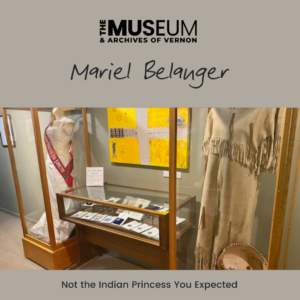 Not thE Indian Princess you expected
Not The Indian Princess You Expected exhibits parts of interdisciplinary artist, Mariel Belanger's private collection of original artwork and display items. Belanger is a syilx interdisciplinary performance artist who has devised a life "of the land" with self-directed digital performance art as a way to revise history. A 2022 SSHRC doctoral scholarship recipient, Belanger's lived experience impacts her studies as a student at Queen's University. Following in her syilx grandmother's footprints, Belanger weaves community-driven, land-based artistic knowledge and practice into projects and stories of caring for the land and maintaining matrilineal relationships. The Gallery exhibit will shift and change with the seasons throughout 2022 and 2023.
VERNON SERVES
Vernon has a long and proud military history, with more than a century of dedication and involvement with the Canadian armed forces.
Get to know a little bit more about some of the local men and women who served our country in times of war and peace.
WHAT IS A PANDEMIC
We've heard the word a lot lately, but what does it actually mean? What does it take for the spread of an illness to qualify as a pandemic?
The people of the North Okanagan have been through outbreaks, epidemics, even pandemics before. Can exploring our history teach us anything about our present, or our future?.
eco: ecological change in the okanagan
ECO is a virtual field trip to several different areas around Vernon as we learn about natural history, human history, the local ecosystem, and how it has changed over time.
Learn More About: Okanagan Nation and the Syilx People; Early Explorers and Settlers; Land Use and Agriculture; Transportation and Recreation; the perspective of local Syilx Indigenous Youth Leader.
Included:
30 minute Eco film
Then & Now Slideshow of Local Locations and Landscapes
Educators Guide
Suggestions for Inquiries and Activities
Additional Resources