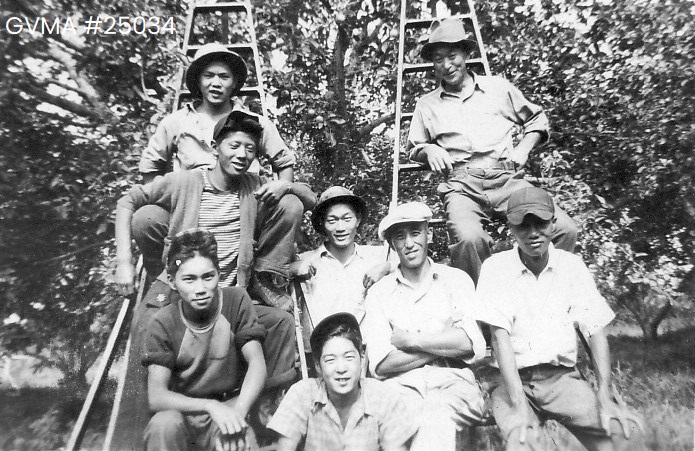 Asian History Month
May is Asian History Month in Canada, and this year's theme is "Stories of Determination," in acknowledgement of the challenges overcome by Asian communities in Canada over the last two centuries. One local community who exemplifies this story of triumph-over-adversity is Vernon's Japanese-Canadian population.
An online exhibit from the University of Victoria's Centre for Asia-Pacific Initiatives, titled "Landscapes of Injustice," starkly reveals the role Vernon played during the dispossession of Japanese Canadians as part of their forced displacement and internment in the 1940s.
World War Two
In 1942, following the attack on Pearl Harbour, the Federal Government called for the removal of Japanese Canadian men between the ages of 18 to 45 from a "protected zone" along the B.C. coast. A few months later, this order was expanded to include all Japanese men, women, and children living within this zone, despite the fact that over 75% of them were Canadian-born or naturalized citizens.
After first being sent to makeshift holding centres in Vancouver's Hastings Park (where the celebrated PNE is now held), most were sent to internment camps in B.C.'s Interior. The men were often separated from their wives and children in these camps, and forced to complete roadwork and other physical labour.
Forced relocation
Vernon was not the site of an internment camp during the Second World War, unlike the First World War, which saw 1100 individuals of mostly Austro-Hungarian and German descent interned on the site of what is now MacDonald Park. However, hundreds of Japanese Canadians were forcibly uprooted to Vernon during this time, in part due to the fact that the Okanagan Security Committee was pushing for the use of interned Japanese as involuntary orchard labourers.
Edith Nishikawa came to Canada as a young child with her parents Usaburo and Tora, and later became a naturalized citizen. At the age of 17, while attending high school in Vancouver, she was forcibly uprooted, along with Usaboro and Tora, and sent to Vernon.
Born in Canada in 1921, 21-year-old Suyeo Kawamoto was sent to Vernon in 1943; his removal occurred despite evidence that he was not living within the "protected zone," since he was working as a farmer in Maple Ridge.
Japanese national Chikao Yamamoto, born in 1888, was working for the B.C. Fir and Cedar Company in Vancouver when he, his wife Etsu, and children Masao (11), Kazuko (9) and Tsugiwo (7), were sent to Vernon in 1942; in 1946, a year after the war ended, they were exiled to Japan.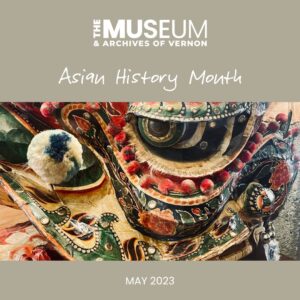 Stories of Determination
Unfortunately, these are just a few stories among many. But despite this opposition, many Japanese Canadians, both those who were forcibly removed to Vernon and those who moved here willingly over the years, were determined to carve a space for themselves, and contributed to the forming of a rich local Japanese community.
To celebrate Asian History Month, the Vernon Museum is hosting a special exhibit. Learn about the richness and diversity of Asian Canadian heritage in the Okanagan. Chinese, Filipino, Japanese, and South Asian cultures will be represented in this exhibition. Interpretative panels and tri-folds explore each community as unique and integral parts of Okanagan culture. Traditional clothing and cultural objects, both part of Vernon Museum's collection, and on loan from Okanagan residents, will be on display as well.
To explore more of Vernon's history, check out our other blog posts!
Gwyneth Evans, Head of Archives