meanwhile… back at the ranch
ranching in the north okanagan from syilx & settler perspectives
a virtual program
Presented as a Virtual Event for the 2021 Vernon Winter Carnival, Meanwhile… Back at the Ranch is now available to order for classrooms, home learning, community and seniors' programs.
Take a Virtual Trip back in time through the Wild West and ranchlands of the North Okanagan. Interpretive guides and special guests will tell tales of life back on the early ranches of the valley through streaming video, on-location film clips, live music, and multi-media displays.
To learn more about the Virtual Program, read below, or contact us here.
Suitable for:
Community and Seniors' Programs
Grades 9-12 Social Studies and History Curriculum
Homeschool, independent learners
Click here for BC Curriculum Big Ideas and Core Competencies
VIRTUAL PROGRAM INCLUDES
1 hour Virtual Program, with an additional half hour of pre-show and post-show Q&A
Pre-show includes archival photos of North Okanagan and trivia
Virtual Program includes film clips, musical performances, interviews and multi-media presentations
Both Indigenous Syilx and settlers to the Okanagan stories and perspectives are shared and explored
Q&A led by Ken Mather, renowned expert on ranching and cowboy culture in Western Canada
Performance by Syilx musician, Duane Marchand
Okanagan Indian Band Youth Council Co-chair, Justen Peters, offers his perspective
For an overview of what topics are explored in this Virtual Program, read more below
Contact Us if you'd like to order this program for your classroom, independent learner, or community program.
When they first came among us there were only Indians here. They found the people of each tribe supreme in their own territory, and having tribal boundaries known and recognized by all.

Letter to Sir Wilfred Laurier from the Chiefs of the Shuswap, Okanagan and Coteau tribes of British Columbia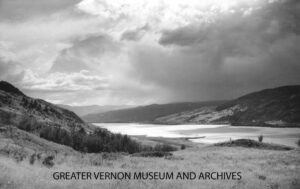 Archival photo of Nk'maplqs (Head of the Lake) traditional Syilx territory in Okanagan Nation, location of present day Okanagan Indian Band (GVMA Archives)
House of Luc Girard, first permanent structure of white settler in North Okanagan
Splatsin women of Secwépemc Nation racing dug-out canoes near Enderby
Sylix cowboys Andrew Tomar (L) and Christie Parker (photo courtesy of O'Keefe Ranch)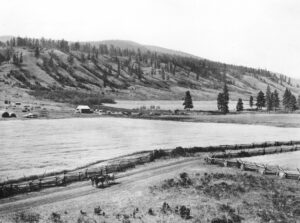 Ranchland and homes of Indigenous Syilx people in Spallumacheen between Vernon and Armstrong
traditional syilx & Secwépemc land
The theme for the 2021 Vernon Winter Carnival was "Wild West", which raised the question – for whom was the west "wild"?
The Okanagan wasn't wild for the Syilx people of Okanagan Nation and the Secwépemc people of the Shuswap Nation who have lived here for centuries. It was – and is – their home and traditional land.
Any exploration of ranching in the North Okanagan must begin with the Indigenous people who were expert horse handlers and stewards of the land long before Europeans arrived.
It was early relationships between settlers and Indigenous families and individuals that allowed the recent European immigrants to survive and adapt to the environment and landscape that has been home to the Syilx and Secwépemc Nations for thousands of years.
Meanwhile…Back at the Ranch delves into some of this challenging and complicated history, with perspectives shared by the descendants of settlers, and current Syilx residents who trace their family lines back centuries on this land.
We begin the program with a reading from a letter to Sir Wilfred Laurier from the Chiefs of the Shuswap, Okanagan and Coteau tribes of British Columbia:
They say there are no lines, except what they make. They have taken possession of all the Indian country and claim it as their own. Just the same as taking the "house" or "ranch" and, therefore, the life of every Indian tribe into their possession. They have never consulted us in any of these matters, nor made any agreement, nor signed any papers with us. They have stolen our lands and everything on them' and continue to use same for their own purposes.

Letter to Sir Wilfred Laurier from the Chiefs of the Shuswap, Okanagan and Coteau tribes of British Columbia
home on the range
A Sleepy Cow town
Early settlement in the North Okanagan by non-Indigenous people was driven and made possible by ranching and agriculture use of the land in the valleys and cattle grazing in the surrounding hills.
Vernon became known as a "sleepy cow town" and three major ranches would build the infrastructure for more immigration into the area. These three large ranches were BX Ranch, Coldstream Ranch, and O'Keefe Ranch.
A VISIT BACK AT THE RANCH
We take a visit to O'Keefe Ranch with former resident Curator and ranch Caretaker, Ken Mather.
Mather is an internationally renowned expert on ranching and cowboy culture in Western Canada and he gives us a concise and engaging account of early ranching and cowboy culture in the North Okanagan.
MAMA, Don't Let Your Sons Grow Up to Be Cowboys
Duane Marchand performs some tunes live at O'Keefe Ranch. Marchand is a member of the Okanagan Indian Band at the Head of the Lake, the reserve closest to O'Keefe Ranch, which is located on traditional Okanagan territory.
Marchand shares some of his recollections and perspectives as the family member of a long line of Indigenous horse handlers, riders, and ranchers.
GVMA is grateful for the partnership with Historic O'Keefe Ranch for this virtual program.
Above: "Vanguard of the Pine near Okanagan Lake," by the Governor-General, the Marquis of Lorne, 1882, showing the O'Keefe Ranch houses. Courtesy of the Royal BC Museum and Archives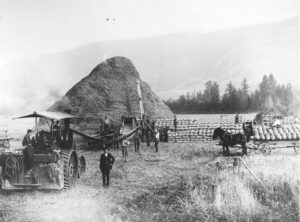 Coldstream Ranch (GVMA)
BX Ranch (GVMA)
Alice Barrett Parke, 1897 (GVMA )
Formal portrait of Sophie Christine Johnson, circa 1880. In 1884, she married prominent Vernon businessman Price Ellison. (GVMA)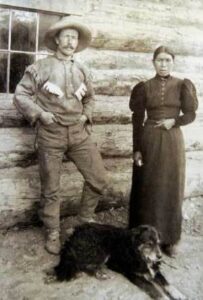 James Teit and wife, Nancy Artko in 1897
women of the west
Early Pioneer Women
Back at the Vernon Museum, we take a peek inside the journals of Alice Barrett Parkes who chronicled her experiences as a pioneer woman in Interior BC.
Barrett Parkes, the daughter of Irish immigrants, came from Ontario to assist her brother and uncle on Mountain Meadow Ranch on Otter Lake between Vernon and Armstrong.
Her diaries provide a detailed account of daily life of a woman working on a ranch in the late nineteenth and early twentieth century. They are also some of the only known written records of women's daily lives in the interior of BC during this time period.
We take a look at some of the things that women like Alice Barrett Parkes may have used in their daily lives and domestic duties on ranches in the area.
Indigenous-Settler Relationships
We also ask the challenging questions of who was unsettled from this land when the settlers arrived and pre-empted land.
Several ranching men in the Okanagan had Indigenous wives and families. Cornelius O'Keefe formed a formal kinship union with a Syilx woman, Alapetsa Stalekaya, from the nearbyHead of the Lake band.Several of this area's settler "forefathers", including Forbes Vernon, E.J. Tronson, Thomas Hayes, and James Teit, also had Indigenous wives.
In a history that is marred with lived experiences of racism and discrimination, several of these men – though not all – abandoned their Indigenous wives and children when more "suitable" white women began to move into the area.
Whose Land Is It?
Making this dynamic even more sensitive and contentious, often these men were living on and profiting from land that was the ancestral and traditional land of the families, communities and Nations of these Indigenous women.
We explore this part of Okanagan history with sensitivity and respect. As a museum currently staffed by descendants of settlers, we realize that some of these stories may not ours to tell, but they are also not ours to suppress, ignore or forget.
James Teit (left) transcribed the letter from the First Nation Chiefs to Sir Wildred Laurier, now known as the "Laurier letter"
whose stories make history?
WHOSE STORIES ARE told?
We end this journey back in time by chatting with Syilx ambassador, and Okanagan Indian Band Youth Council member, Justen Peters.
Peters shares some of his own perceptions of the term "Wild West" and "cowboy" as a Syilx man and member of the OKIB.
As Peters jokes, "In the Okanagan, the cowboys were the Indians."
Peters tells us about Syilx members of the Indigenous Okanagan Nation who are some of the most honoured and decorated rodeo riders and cowboys in North America.
These include North American Cowboy Hall of fame inductee Kenny McLean, and five generations of the Louis family who were inducted into the BC Cowboy Hall of Fame at once.
Whose stories are REmembered?
To learn more about these stories, and more, contact us about ordering the Meanwhile…Back at the Ranch Virtual Program.
Suitable for Grade 9-12 Social Studies and History curriculum, homeschool and independent learners, as well as seniors' and community programs.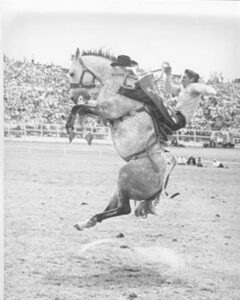 Hall of Fame Cowboy, Kenny McLean, of OKIB Head of the Lake
(Image Credit: National Cowboy Museum/Dickinson Research Center)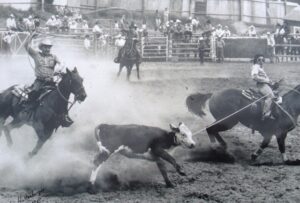 Ben Louis (left) and his son Vaughn competing in a team roping event.
Duane Marchand
Ken Mather
Justen Peters
contributors
Meanwhile…Back at the Ranch was created, developed, filmed and edited by staff members of Greater Vernon Museum and Archives.
It wouldn't have been as entertaining, informative and enlightening without the involvement, talent, knowledge and perspective of the following contributors:
Duane Marchand
Duane Marchand is a musician, performer, and community-builder. He is a Syilx member of Okanagan Nation, from OKIB (Okanagan Indian Band at the Head of the Lake) and his roots run deep in this land as far back as his family can remember. Several of his family members were and still are actively involved in ranching and horse handling in the North Okanagan.
ken Mather
Ken Mather is Vernon's own internationally renowned expert on buckaroos, cowboys, ranching, and cowboy culture. He was Manager/Curator at the Historic O'Keefe Ranch from 1984 to 2004, and lived on the ranch. He is the author of several articles and 6 full-length books, including Bronc Busters and Hay Sloops, Frontier Cowboys and the Great Divide, and most recently, Stagecoach North: a History of the BX Express. To learn more and to order these books and more, visit www.kenmather.com
justen peters
Justen Peters is a Co-Chair of the Okanagan Indian Band Youth Council. Peters grew up on OKIB reserve land, primarily in the Salmon River and Round Lake area. He is the BCAssembly of First Nations Male Youth Representative and has taken part in national committees, attended conferences, and met with leaders in the Provincial, Federal, and First Nations governments as an Indigenous youth representative.
GVMA thanks each valued contributor for the knowledge, insight and perspective they brought to the Meanwhile…Back at the Ranch Virtual Program.