The Museum and Archives of Vernon offers a diverse range of school programs that will maximize learning outcomes for your students. Our programs are designed to be inclusive and accessible for all students and reflect the "Big Ideas" of British Columbia's Course Curriculum. Please note that additional time can be added to any field trip for inquiry-based exploration of the museum.
*Field trips must be booked a minimum of two weeks in advance*
Contact amy.timleck@vernonmuseum.ca to book your visit.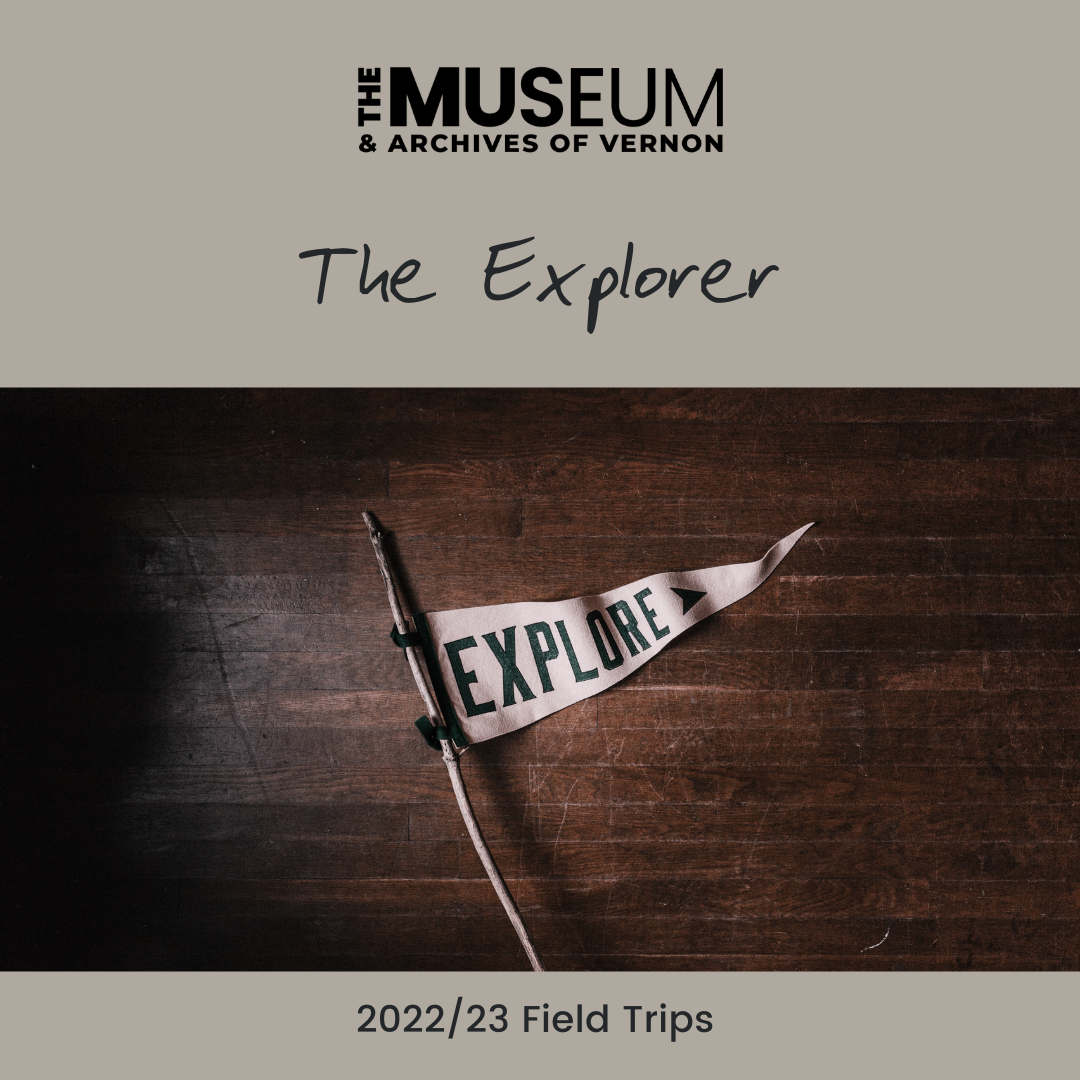 The Explorer (AGes 5+)
Throughout history people have wondered what is beyond the next mountain, ocean, river, or even what is beyond this planet. Students will investigate the human drive to explore, discover more about who explorers are and what they do. Student will then become explorers themselves and venture out into the museum to have a unique exploration experience and learn how to map their way back home. $75.00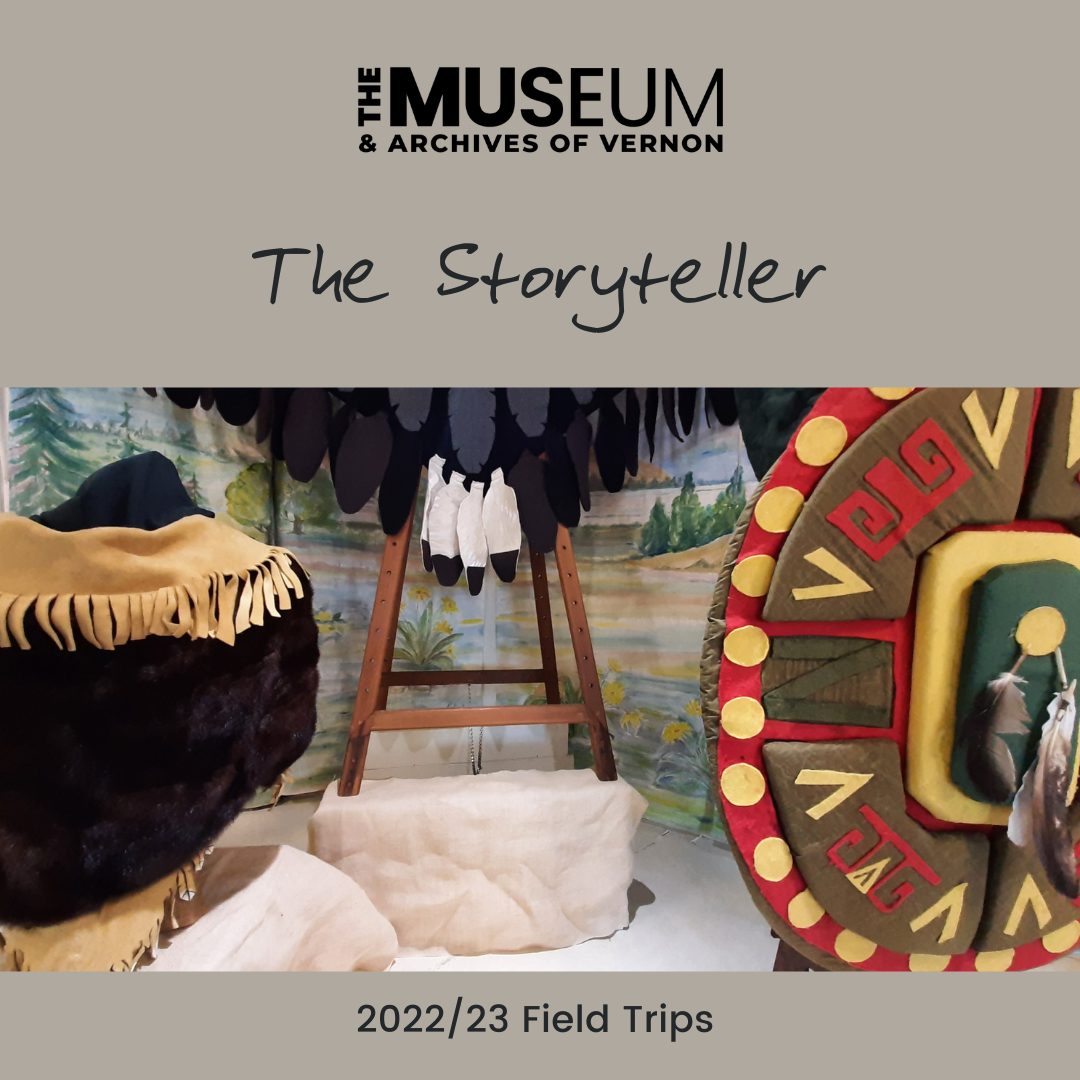 The storyteller (AGES 5+)
How Turtle Set the Animals Free is the syilx captikʷł (traditional teaching or story) of how turtle dreamt a way to outsmart eagle and set the animal people free. Students will hear this traditional story, emphasizing friendship, equality and freedom, and then engage in various activities that explore themes around courage and empathy. $75.00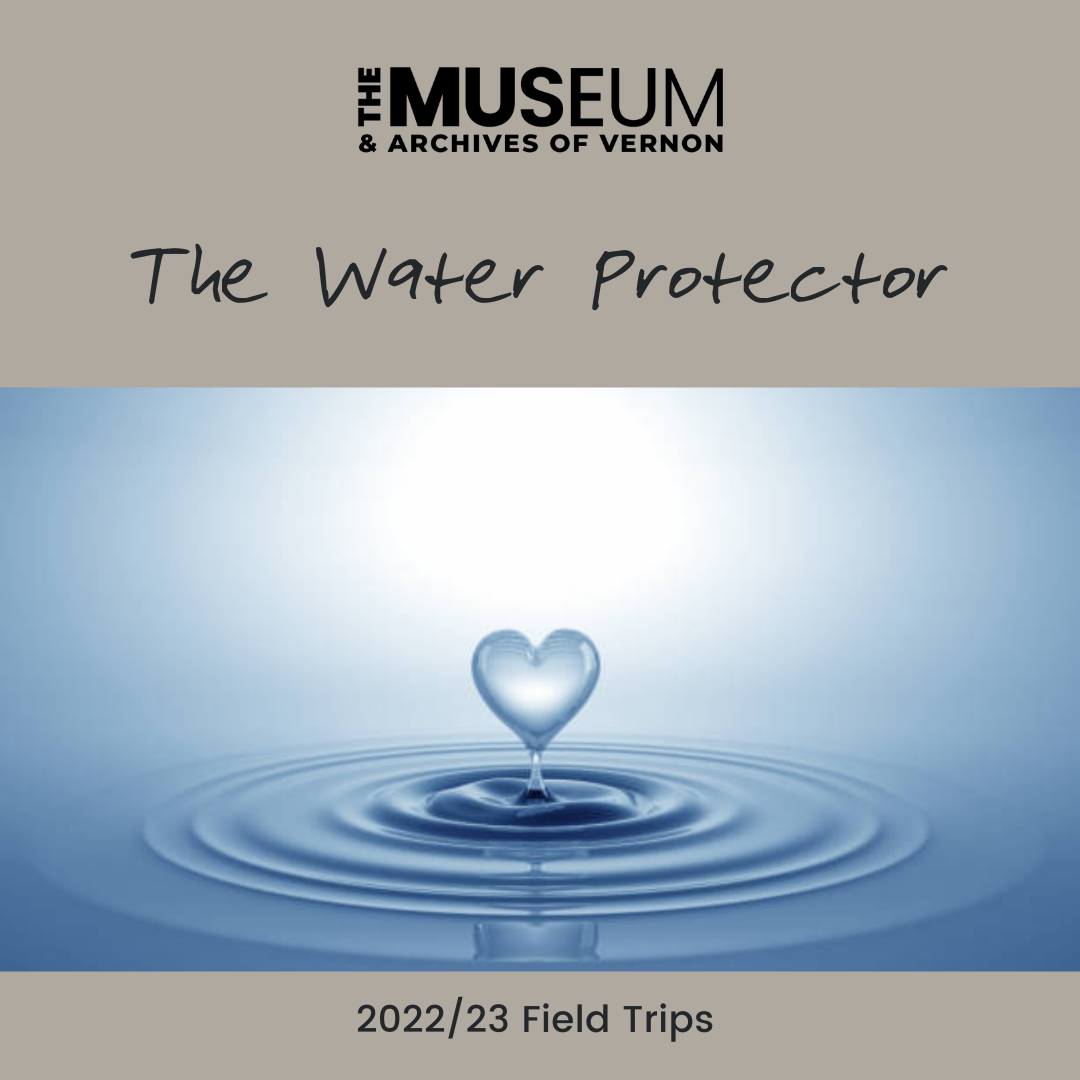 The water protector (AGES 8+)
As our population grows, more and more people are learning about how they can help protect one of our most valuable resources – Water. Students will move through the museum to better understand the connections between the source of the water they use and the ways their water use habits affect the environment. Students will engage in a hands-on activity that encourages them to reduce their impacts by pledging to take steps to use water more efficiently. $75.00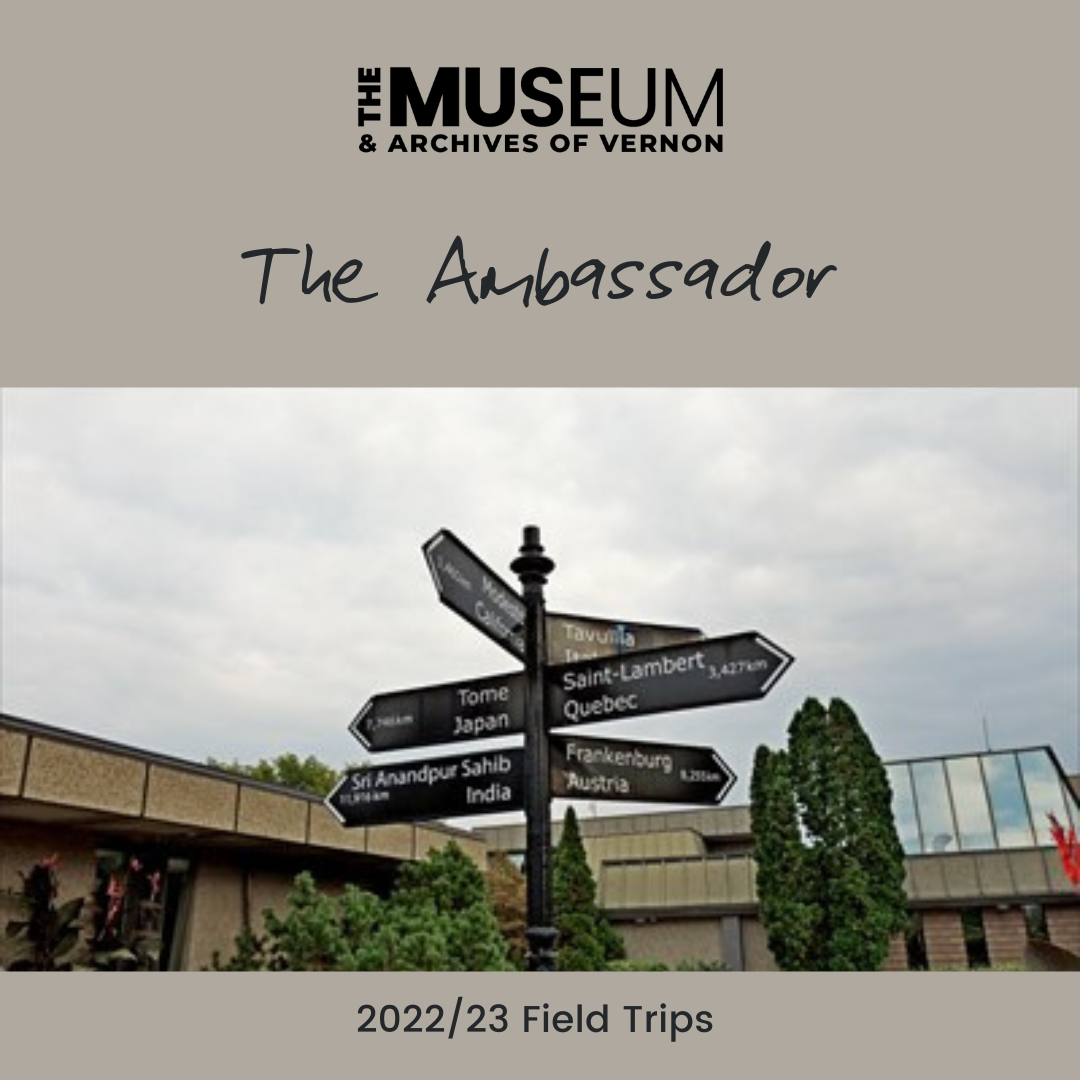 The Ambassador (AGES 8+)
Since the inception of the International Friendship Committee, the City of Vernon has coordinated the twinning of six sister cities across the globe. From the US to India, Japan, Europe and eastern Canada, our sister cities offer a diverse opportunity for cultural exchange. Students will learn about each of our sister cities, and some of the similarities and differences with Vernon's history, culture, and environment. Students will reflect on their own cultural heritage and then collaborate on a special project to share The Best of Vernon with these partners. $75.00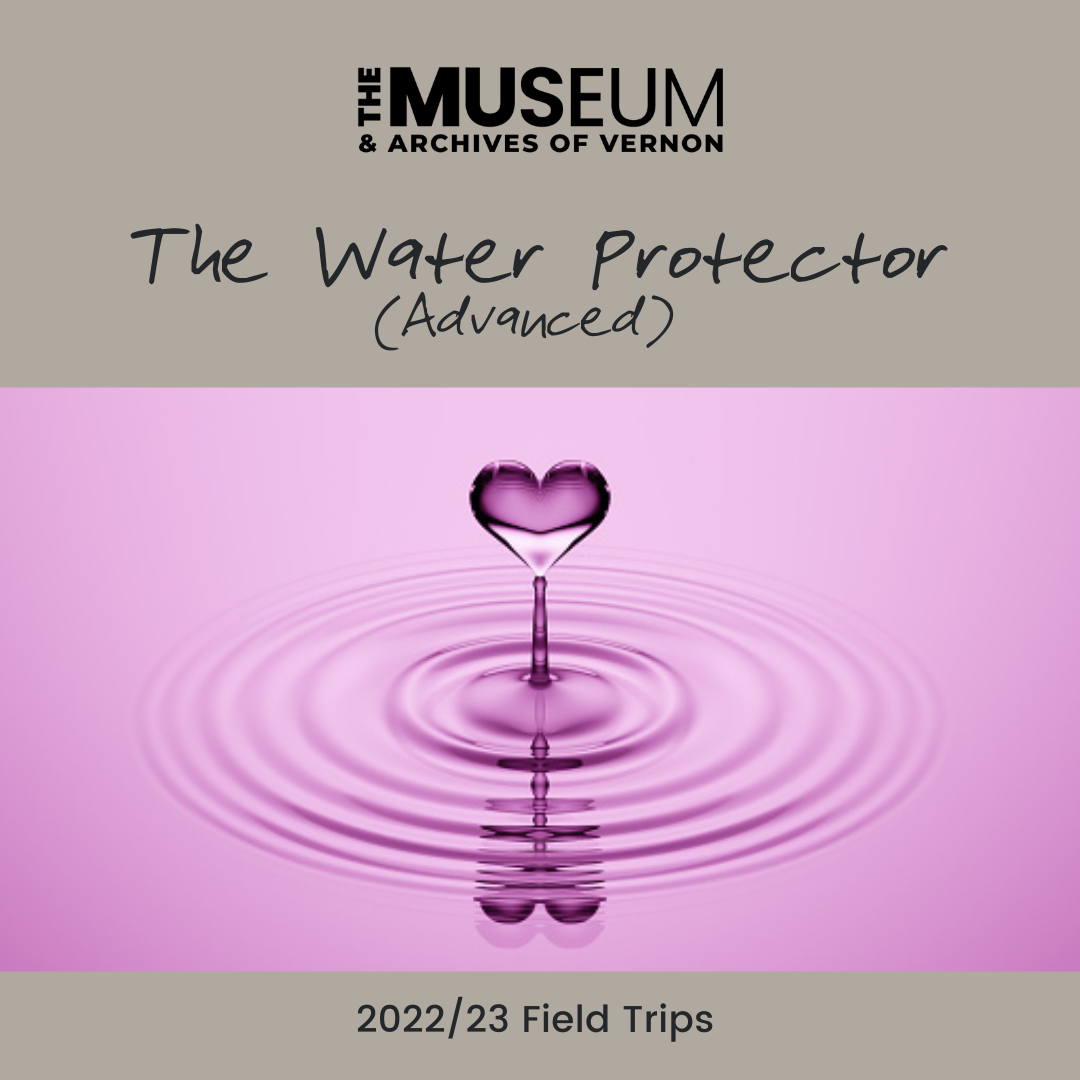 The water protector – advanced (ages 10+)
The syilx Water Declaration serves as a living document on syilx relations and values to water. This document communicates the importance of water, the responsibilities of syilx people and reflects the strong collective voice of the community. In a hands-on activity, students will integrate this declaration into a project that invites them to consider their own connections to water and their personal responsibility to protecting this finite resource. $75.00
The time traveler (Agest 10+)
From woolly mammoths to the Okanagan Fur Brigade, retreating glaciers to the building of the Grey Canal, students will travel through time exploring the fascinating and unique history of Greater Vernon. Students will engage with various exhibits that tell the stories of prominent members of our community and have an opportunity to reflect on their own place in history by creating their very own time capsule. $75.00
the activist (Ages 13+)
Students will be immersed in the world of Indigenous-led activism, studying the work of prolific leaders from across the region. Understanding these movements through the context of issues specific to the Okanagan will give students a better understanding of both historical and contemporary issues facing Indigenous people. Students will have an opportunity to see themselves as part of a movement through a highly-engaged activity. $75.00
the researcher (ages 13+)
Take a tour through the Vernon Archives and learn more about the visionary and influential citizens who positively impacted education in the North Okanagan. From advocates for gender equality, to recognition of a variety of learning styles, to celebration of cultural diversities, students will peer through archival photographs, peek inside real letters and diaries, scan through newspapers of the day and learn how each of these remarkable individuals impacted education in the area. Influential individuals with connection to specific schools and/or catchment areas will also be highlighted – learn how individuals can make a difference that impacts a community! $75.00
the Independent (All Ages)
Don't see a field trip that fits into your lesson plan? Self-guided tours are an ideal way to chart your own course through the exhibitions, as you and your students explore the museum's collection at your own pace. These flexible trips allow you to shape your students' experience around a specific area of interest or topic you are studying in the classroom. (By Donation. Suggested Donation $2/student)