strength & resilience through syilx culture
June 11, 2021
Content warning: The following story contains difficult subject matter, including a residential school experience. Please take care.
The first residential school in Canada, the Mohawk Institute in Brantford, Ontario, opened in January of 1831.
After 165 years of operation, the Canadian Residential School System officially ended with the 1996 closure of the last federally-operated facility, located in Punnichy, Saskatchewan.
The effects of this system continue to be felt by its survivors and their descendants to this day.
lasting impacts
Like Indigenous Communities around the country, the Syilx People of the Okanagan Nation experienced the devastating impacts of the Residential School System.
Many Syilx Children attended either the Kamloops Residential School or the St. Eugene's Residential School in Cranbrook.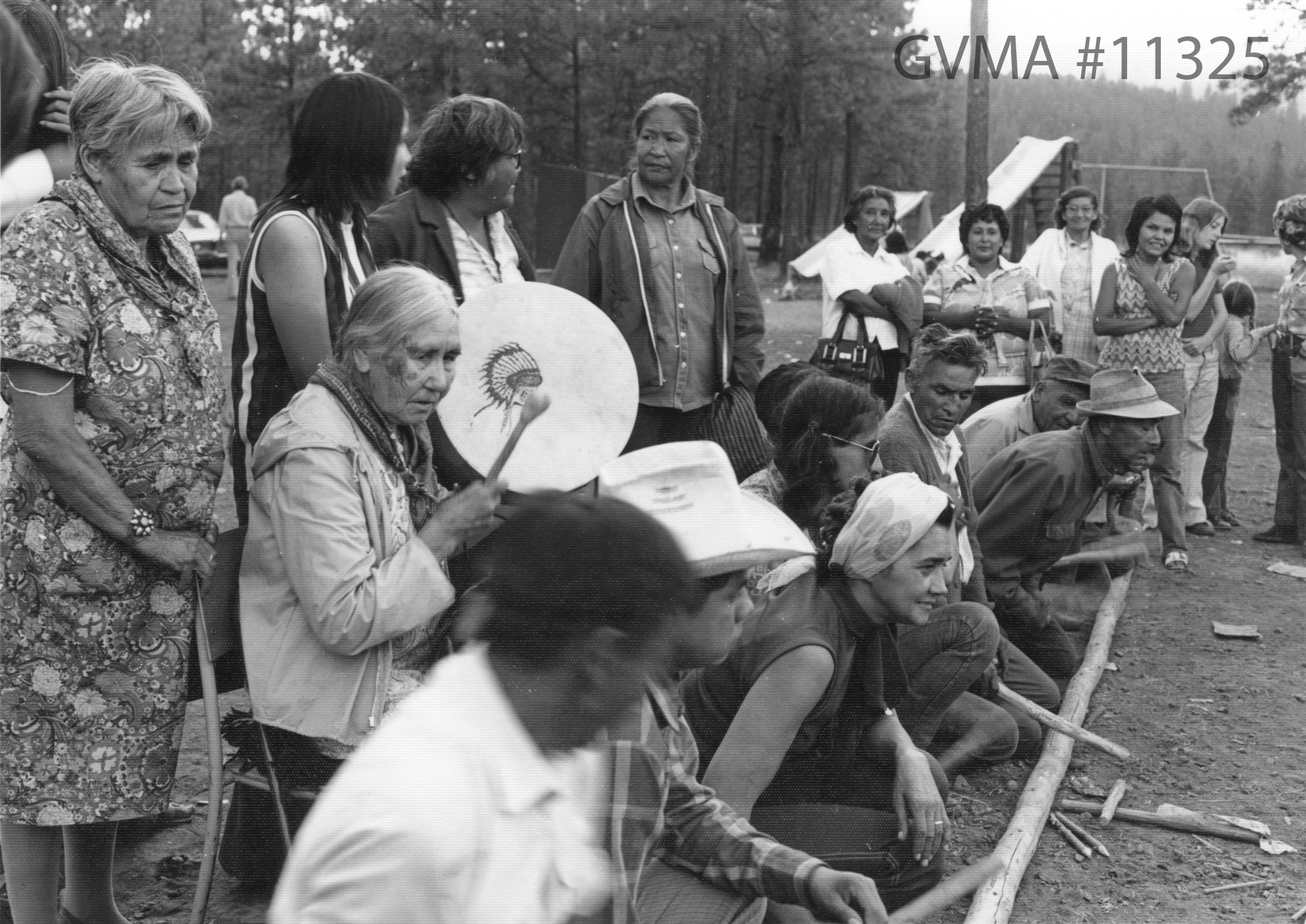 A traditional Syilx stick game at Head of the Lake / Nk'maplqs in 1972
Some Syilx Nation children attended day schools in their home communities. These day schools also had the explicit mandate, as was once said by Sir John A. MacDonald, was to "take the Indian out of the child".
Day schools also left painful and oppressive impacts on Okanagan Nation communities, as well.
"You don't know how it feels"
Rosie Jack, born at Head of the Lake in 1932, was interviewed by UBC's LaVonne Kober in 2012. During the interview, Rosie recalled her experiences at the Kamloops Residential School, were she was sent with her siblings as a child of seven: "to be taken away from your family, your mom and papa… sent away in a big, big stock truck. You don't know how it feels. You are just completely lost and then you got punished because you cried for your mom. It's hard."
When the children arrived at the Kamloops Residential School, their hair was cut short and they were assigned uniforms. Rosie painfully recalled the moment she had to give up the beautiful new dress and shoes her mother had bought her for the journey. Rosie was separated from her brothers, and forbidden to speak her native nsyilxcən. The children attended classes in the morning, and worked in the afternoon. Rosie spent one month carrying sad irons between the kitchen and the laundry room.
resiliency through traditional culture
Rosie later returned to the school as an adult: "When I went in that school when I was a girl it was huge, it was so big. When I went back there a few years ago, it looked so small." Despite the pain of losing her siblings and watching her mother succumb to grief, Rosie was resilient, and able to rediscover her culture through the raising of her nephew, Terry. She discussed traveling to powwows across Canada and the United States so that Terry could compete in sticking tournaments: "he has always done so well. He's a real good sticking player."
"We are still here. In fact, we are thriving"
Former Grand Chief and Chair of the Okanagan Nation Alliance Stewart Philip states that "we can celebrate the fact that the Indian residential school was a complete and dismal failure. We are still here. In fact, we are thriving. Our languages are coming back through our children. Our songs and customs are coming back through our youth. Our traditions are being openly shared by our Elders. Our women are providing the leadership to ensure everything is done in a good way." Philip adds that if people, like Rosie, did not have the "courage and resilience to resist, we would not be here today."
Gwyn Evans