Intrepid early ski club
December 5, 2020
After what's felt like a long, challenging year, several Okanagan locals are looking forward to finding a sense of freedom in the feeling of skiing down the slopes of Silver Star.
However, in its early days, simply getting up Silver Star Mountain was a feat and challenge in and of itself, only attempted by the most adventurous and determined ski enthusiasts.
In the 1930s, North Okanagan citizens realized Silver Star – which was named after a mining claim on the mountain – was a superb destination for skiing.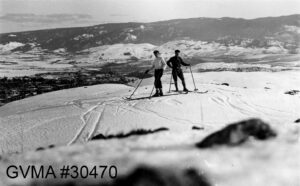 Two unidentified skiers pose on the Birnie Range Ski Hill, with the city of Vernon in the background, circa 1940s
However, the mountain could only be accessed by trails, and later, a small, unmaintained road which only allowed vehicles to make it halfway up the hill. Hoping to make skiing accessible to a wider public, the Silver Star Ski Club decided to move their winter pursuits to Birnie Range on a hillside overlooking Kalamalka Lake on the west side of Highway 97.
On February 9th, 1939, the Vernon News reported: "the Silver Star Ski Club, which will be host to the second annual Okanagan Valley ski championships, on Sunday, February 19th, has completed an addition to the main jump on Birnie Range that should make leaps of 110 to 120 feet possible. Jumping for men and junior boys will be one of the features of the meet."
It was here that the club started their annual four-way championships, consisting of ski jumping, cross-country, downhill, and slalom events. Memberships cost between $0.75 for youth and teens, and $2.50 for adults.
In 1948, the club moved its activities away from Birnie Range after a mild winter produced a lack of snow. They tried a couple different locations around Vernon, before deciding that the lower elevation was not ideal and returned to their goal of conquering Silver Star Mountain as an accessible ski hill for local and visiting enthusiasts.
Gwyn Evans