virtual exhibits
Take a tour from wherever you are!
Virtual Exhibits bring together a fraction of the fascinating archival photographs and documents from our archives, along with oral history clips, sound recordings and some vintage video footage.
Fall 2020 we launched our first two Virtual Exhibits – PANDEMIC and VERNON SERVES. Stay tuned for our Winter 2020/21 Virtual Exhibit…
explore online resources!
Remember the local men and women who have served Canada in times of war and peace.
A history of community outbreaks, epidemics and pandemics that have hit the North Okanagan and the world.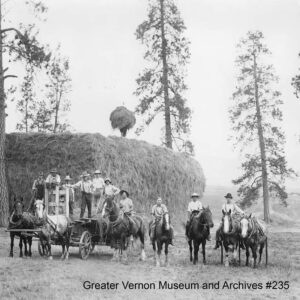 Meanwhile…Back at the Ranch: now available to order as a program for secondary schools or community groups!
WE RESPECTFULLY ACKNOWLEDGe
Greater Vernon Museum & Archives is located on the Ancestral, Traditional and Unceded Territory of the Okanagan Nation and the Syilx People.