An infamous remittance man
Perhaps he was trying to take some of the attention away from his Marchioness sister, or maybe he just wanted to scandalize the ladies.
Whatever the case, back in Vernon's Cowtown days, few developed as infamous a reputation as one Coutts Marjoribanks (pronounced Marchbanks).
to the colonies
Coutts was born in 1860 into an aristocratic British family. His father, Dudley Marjoribanks, was a Scottish businessman and politician who was later elevated to the position of Baron Tweedmouth.
Dudley and his wife Isabella had seven children, two of whom died as infants, with Coutts being the second-youngest.
When he came of age, like many other energetic, perhaps considered unruly, younger sons of upper-crust British families, Coutts was sent overseas for a life in the colonies.
These men were often given an allowance, or "remittance" from their well-to-do families. And, this remittance often made it possible for them to try on the parts of farmer, cowboy, or rancher in this new, "wild" world.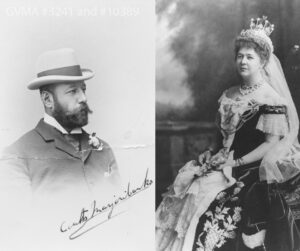 Portrait of Coutts Marjoribanks in 1895; Portrait of Lady Aberdeen at King Edward's Coronation in 1902.
Coutts Marjoribanks (seated) with ranch hand
"not a particularly nice man"
He spent his youth cattle ranching in the Territory of Dakota, which instead of taming his boisterous personality and adventurous spirit, only encouraged it. He quickly became an accomplished roper, rider, and rancher.
Although Coutts was thriving in his new lifestyle, his family did not approve of his antics, and he was pushed to move to Vernon where he could be under the watchful of his older sister, Ishbel, the Lady Aberdeen. A few years earlier, the Aberdeens had purchased the Coldstream Ranch, and Coutts became its first manager.
Yet, even this increased-level of responsibility couldn't dampen Coutts spirits, and he quickly earned a reputation in Vernon for his brazenness. Of Coutts, local woman Alice Barrett describes "never wanting to know him, for he is not a particularly nice man."
You Can Lead a Horse to…
Photographer Charles Holliday seems to have been more entertained by Coutt's peculiarities, and details with barely-veiled amusement his tendency to ride his horse right into the Kalamalka Hotel whenever he wanted a drink, which was apparently often.
Once when Coutts was loading a shipment of cattle into the back of a train, he was chastised by a passing parson for using expletive language in front of his ranch hand. Coutts lashed back with "Hell man! I'm not teaching a Sunday school, I'm loading cattle, and I'll bet that Noah swore when he was loading his animals into the ark."
Despite his rough manners, Coutts had an undeniable charisma that left most people begrudgingly fond of him—Alice Parke being an obvious exception. Coutts stepped down from his position as Manager of the Coldstream Ranch in 1895, but remained with his wife Agnes and two children in Vernon until his death in 1924.