For the months of June and July, we are thrilled to present a series of blog posts by Collections Intern Rebeka Beganova. Rebeka (she/her) is a post-secondary student with a passion for research, literature, and history. Having completed an Associate of Arts Degree at Okanagan College, she is glad to be joining the MAV team during her last summer in Vernon before heading off to UBC Vancouver. There is no better way to say goodbye to her hometown than to explore its local history!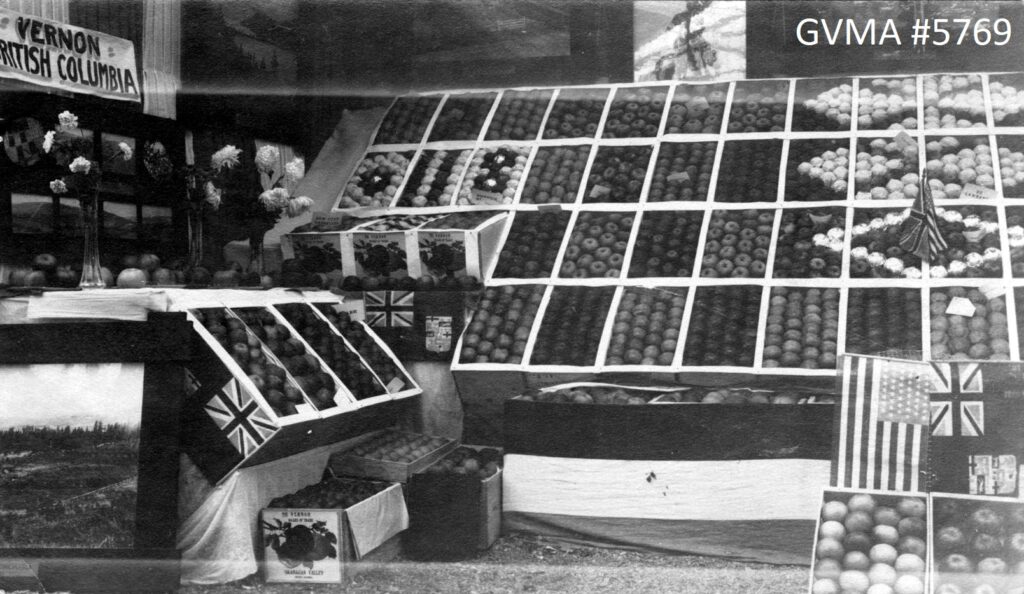 International Renown
With the summer in full swing, Vernon residents are once again reminded of the delicacy that is Okanagan-grown fruit. Fresh produce is a staple in seasonal menus, and it has been for over a century. Even in 1891, fruit production and export was projected as a leading industry in the Okanagan. Lists predicting the most profitable harvests were published in the Vernon News each year, along with detailed diagrams for fruit packing that included satisfying photographs of the desired results (such as the one included here). All the effort for quality and aesthetics was not wasted, as the fame of Okanagan fruit soon reached around the world. In 1905, the Royal Horticultural Society Exhibition in London awarded eight silver medals to produce submissions from the BC area – and five of those went to Okanagan growers.
Swallow the apples, not the pride
Perhaps unsurprisingly, the glory of the fruit industry became a point of fierce pride for many. Innumerable newspaper articles either explicitly or implicitly compared Vernon produce to that of other places. In the late 1800s, a scheme by American companies was uncovered where they were apparently re-branding Canadian apples as the "best American apples" before shipping out to England. Their own products, along with lower-quality Canadian, were passed off as belonging solely to the latter. The indignation and disgust was clear in local reports of these events.
A humourous example of how quickly pride could take hold is the time a prosperous peach tree sprung up at Trout Creek. An excited letter from the president of a mining company cropped up in the papers, in which he stated, "I am more convinced than ever that we are quite likely to become a good deal more than small potatoes in peach production." Keep in mind, this comment came about after witnessing one promising tree. A reply was printed shortly after, where a Mr. Robinson (who, to his credit, at least tasted the peaches) "found them, if anything, larger and of better flavor than [those of] the Lambly ranch." Simply put, Vernon and surrounding areas felt unbeatable in their industry.
Defending one's Honour
Nothing raised the fruit growers' hackles quite like public attacks from the competition. In 1892, the president of the Ontario Fruit-Growers' Association, Mr. Boulter, reported to the Winnipeg Free Press that there was no Okanagan equal to Ontario produce. In response, a two-column long, front-page article appeared in the Vernon News, praising BC fruit and rebuffing the outspoken commentator. The colourful language included one memorable metaphor, where the passionate statements of a local grower were compared to "some of the Okanagan fruit, hurling at the devoted head of the indiscreet Mr. Boulter." Similar gripes were displayed against Calgary spokesmen and innocent people remarking about fruit pests.
In the end, perhaps these moments of heated argumentation are to be excused; a reputation, if well-earned, deserves a strong defence. However, as we enjoy the beaches and fruit stands, recall that tempers can boil just as easily as delicious produce under the summer sun.
To explore more of Vernon's history, check out our other blog posts!
Rebeka Beganova, Collections Intern