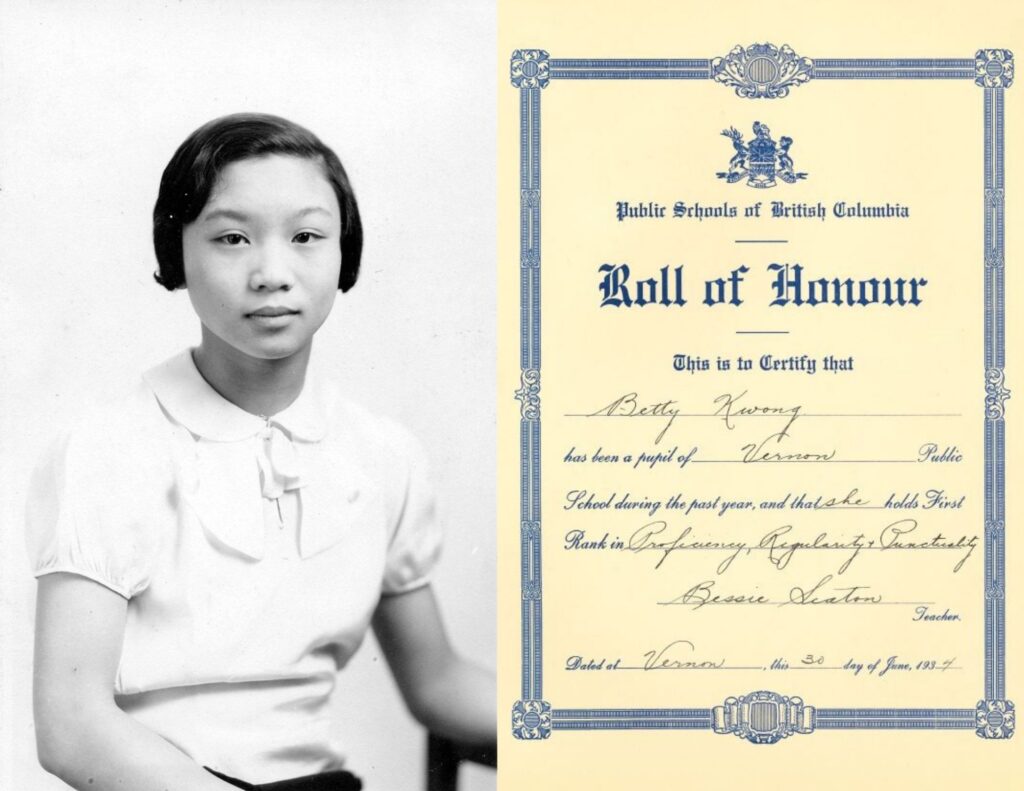 A Famous Brother
Larry Kwong of Vernon is celebrated for being a gifted athlete, and the first hockey player of Asian descent int the NHL. However, his sister, Betty Kwong (later Chan) was no slacker either.
Betty was born in approximately 1920 to Ng Shu Kwong (1866-1929) and Loo See Kwong (1883-1943). Ng Shu immigrated to Canada from China in about 1882, and eventually set-up a general store in Vernon called the Kwong Hing Lung Grocery. It was perhaps the father's determination to succeed (he tried to seek his fortune as a gold miner before he became a merchant) that encouraged success in the fifteen Kwong children.
A gifted sister
Betty was academically gifted, and was an honors student at the Vernon Public School (now known as École Beairsto Elementary) by the time she was in the sixth grade. A year later, Betty was awarded a certificate for placing first in her class in "proficiency, regularity, and punctuality."

When she was fourteen, Betty took her high school entrance examination and earned the highest grade among all students in the Okanagan Valley; she placed just behind Florence Tamboline of Vancouver, who earned the highest grade in the province. Betty's achievement was recognized when she was awarded a Governor-General's Bronze Medal.
As an adult, Betty moved away from Vernon, but kept an interest in the area due to her status as the family's self-appointed historian. Her local legacy continues to be felt in the many photos of early-Vernon life she donated to the archives.
Vernon Vanguards of Winter Sports
If you are interested in learning more about Larry Kwong, the Museum and Archives of Vernon is hosting a Winter Sports Display featuring several athletic vanguards, including Kwong, Josh Dueck, and Sonja Gaudet.
Gwyneth Evans, Research and Communications Coordinator