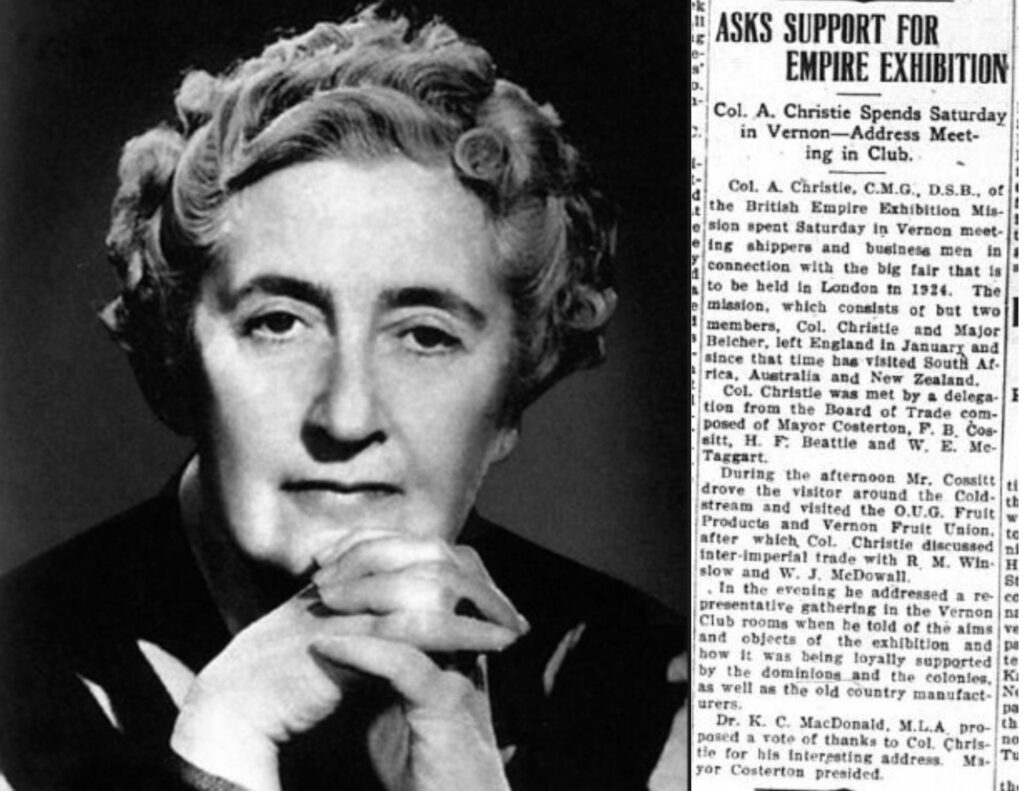 A future famous author comes to town
In the fall of 1922, her visit to Vernon barely earned a mentioned, but only a few years later she had begun to develop a reputation as one of the best mystery writers of all time.
On September 23, 1922, none other than Agatha Christie arrived in Vernon with her husband Col. Archie Christie. At the time, she had already published her first novel featuring Hercule Poirot, The Mysterious Affair at Styles, but it had not earned her much notoriety.
Journey around the World
As reported by the Vernon News on September 28, 1922, Archie Christie arrived in Vernon as part of a trade mission led by Major Ernest Belcher to promote the upcoming British Empire Exhibition in London. Although she is not mentioned in the Vernon News article, Agatha Christie had also come along on this around-the-world tour.
Prior to arriving in Canada, the group first visited Madeira, Africa, Australia, New Zealand, and Hawaii, and stopped in Victoria, B.C., on September 16, 1922. In a letter she wrote to her mother from her comfortable room in the Empress Hotel, Agatha Christie stated that "it was delicious coming into Victoria yesterday afternoon, blue sea and sunshine, crisp but not cold, and a wonderful scent of pinewoods!"
The group traveled to Vernon a week later, where Archie Christie was met by a delegation from the city's Board of Trade. He was taken on a tour of Coldstream, and joined in discussions about inter-imperial trade and the upcoming exhibition set to be held in 1924. What his wife did while he was toted around the city is sadly not known.
Did Vernon have an impact on Agatha Christie?
Only four years later, in 1926, Christie finally began receiving attention for her work, with the publication of The Murder of Roger Ackroyd. That same year, however, she sadly saw her relationship with Archie come to a tumultuous end, which resulted in her being reported missing from her home in Sunningdale, England, for 11 days. While her disappearance and subsequent reappearance have never been fully explained, she went on to find love with her second husband Max Mallowan, and become the best-selling fiction writer of all time.
Whether or not Agatha Christie had any lasting impressions of the small city she visited during her 1922 world-wide tour cannot be confirmed, but her 1930 novel Giant's Bread, published under the pseudonym Mary Westmacott, did include a main character named "Vernon:" so who knows?
To explore more of Vernon's history, check out our other blog posts!
Gwyneth Evans, Research and Communications Coordinator