WIld nights at the Kal
January 15, 2021
The Vernon Winter Carnival is beginning in just over two weeks, and for those of us who have been starved for a change—albeit a safe one—to our repetitive lockdown lives, it couldn't come too soon.
This year's Carnival theme of "Wild West" fits in quite well with our mandate here at the Greater Vernon Museum and Archives.
While this area was home to the Indigenous Syilx people for centuries, the place that came to be known as Vernon began as a small, sleepy "cow town".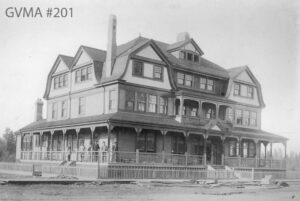 The Kal Hotel, the year it opened in 1892
Many of the stories preserved within our walls tell of life back in its frontier days.
The hub of social activity in Vernon during this time was the Kalamalka, or Kal, Hotel. This impressive piece of architecture was built in 1892 by the Land and Development Company for a cost of $19,000. The new hotel was named in honour of local indigenous chief Kalamalka (this being the anglicized spelling and pronunciation). The hotel's interior was complete with a billiard room, bar and ladies parlour, while the exterior boasted tennis courts and a vegetable garden.
In his book "Valley of Youth," colourful local historian and photographer C.W. Holliday describes the Kal Hotel as the local social centre of Vernon, saying that "here one might meet celebrities and interesting people from all over the world." One of the favourite places for locals and visitors alike to relax was the hotel's cozy lounge, where they could gather around a large open fireplace and enjoy a favorite drink carried over from the bar on cold winter nights.
Despite the tendency for the hotel to be considered the go-to spot for "festive and convivial gatherings," the wife of the hotel's first manager, Mrs. Meaken, ran a tight ship. If she felt the evening's proceedings were becoming too disorderly, she had the disturbing habit of appearing in the doorway of the billiard room dressed in her nightgown. "Gentlemen," she would say sternly, "it is time to go to bed." A gloomy silence would then descend over the room, as the men packed up and shuffled home. No one, it seems, ever refused her orders.
Another story recalls Mr. Meaken, who, unlike his wife, was said to be meek and mild, took full advantage of the Missus being out of town and had a little too much to drink. While under the influence, he had the brilliant idea of bringing a horse in from outside and riding it around the billiard table. One can only imagine what Mrs. Meaken would have thought if she had seen this spectacle.
Holliday is careful to add that although these stand-out moment's in the hotel's career naturally stick in his memory, most of the time the gatherings were quiet and composed, and this Wild Western hotel was exactly what it claimed to be—a comfortable family venue.
For more tales of Vernon's "Wild West", join us for the GVMA Winter Carnival event, Meanwhile, Back at the Ranch…
Gwyn Evans