SilverStar's Little SIbling
It may have only operated for a few years, but Vernon's Tillicum Valley Ski Hill played host to several professional athletes and even launched the career of a future downhill champion.
In the mid-1960s, Vernonites Molly and Sandy Boyd decided to rig up a tractor-driven tow rope from an old purse seiner so that they could ski down a hillside on their property, since the couple were too busy with five kids and a farm to make the trek up to SilverStar. After a few quiet first seasons that saw mostly family and friends using the hill, it began to garner attention following the addition of a new tow rope, safety gates, groomed slopes, and even a children's ski school.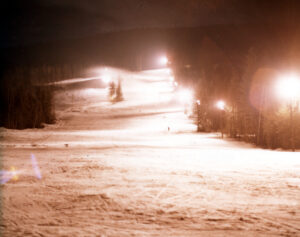 Moving on up
By 1969, the Boyds and business partner Neil Wolliams had decided that it was time to move their venture five miles up the hill to their Tillicum Valley property where a northern exposure offered better snow conditions. They installed a 2,000 foot T-bar to service two lit runs that could be used for day or night skiing, and named it the New Winterside Ski Hill and Recreation Area.
The resort officially opened in January of 1970. In addition to the two slopes, it included a skating rink, snowmobile trails, and ski-doo rentals. Eventually, it would come to be year-round playground with a hot spring, a raceway, hiking trails, and even an alpine slide. It is here that Rob Boyd, one of Molly and Sandy's sons and the first male Canadian to win a gold medal in a World Cup downhill race in his home country, began his athletic career.
From New Winterside to Camp Tillicum
After several seasons of poor snow conditions, the Boyds were forced to sell New Winterside in the early 1980s. They moved to Whistler to support their son's blossoming skiing career, and New Winterside faced an uncertain future as its assets were sold off. Thankfully, in 1989, the property was purchased by the Girl Guides of Canada, and "Camp Tillicum" is still used by the group today. Molly and Sandy eventually moved back to the Vernon area, and continued to serve as active and energetic community members.
To explore more of Vernon's history, check out our other blog posts!
Gwyneth Evans, Research and Communications Coordinator