historic campbell house
March 12, 2021
With its cheery yellow siding, tall central tower, and large bay windows, the Campbell House perched overlooking downtown Vernon at 2203 30th Avenue is certainly a local landmark.
This Queen Anne Revival House, built in 1898, is among the oldest sites on Vernon's Heritage Register, and has even garnered attention on a national scale, with the property being listed on the Canadian Register of Historic Places.
eyes on Morning Glory
In an ostentatious display of his wealth, rancher and prospector A.E. Morden built the house in order to be able to stand on his balcony and use his spy glass to monitor the goings-on at his operation, the Morning Glory Mine, located on the east side of Okanagan Lake.
Morden's story didn't exactly end in glory, and the house became more closely associated with its third owner, J.C. Campbell, who, alongside his brother Angus, operated a popular furniture store in Vernon. J.C. moved his wife Margaret and four children into the castle-like structure prior to 1913.
heritage designation
One can only imagine the family joys and dramas that took place within the walls of the Campbell House. The building stayed in the family for many years, and was passed down to J.C.'s wife Margaret after his death, and to daughter Lorna after Margaret's own passing.
Over the years, the Campbell House has changed relatively little, thanks largely to its designation as a heritage property in 1988.
In addition to the normal deterioration one would expect of a more-than century old structure, a lighting-induced fire tore through the building's attic in 2010.
Two horse drawn carriages sitting in front of the Campbell house circa 1910 (GVMA)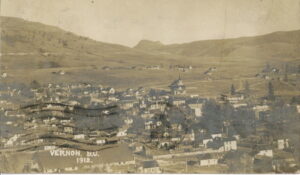 Postcard of Vernon from 1912.
The Campbell House is visible on the top left of the card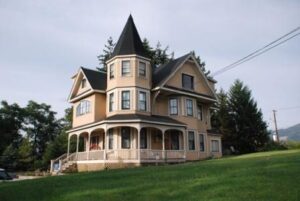 Campbell House 2010 (City of Vernon)
revitalization
Thankfully, the house underwent some much-needed restoration in 2011/2012. Contractor Gavin Parsons and his crew stripped layers of flooring to expose the original fir planks, reinstalled the porches, and added a few modern touches like plumbing and electricity.
Through the efforts of individuals like Parsons and organizations like the Heritage Advisory Committee, the now 123-year-old Campbell House looks much like it did when it was first built, and continues to serve as a monument to our city's early development.