"Enriched all aspects of our society"
In recognition of Italian Heritage Month, which is celebrated every June, Minister Hussen stated that "with more than 1.5 million people of Italian heritage, Canada is the proud home of one of the largest Italian diasporas in the world. From business to sports, cuisine, politics, and much more, the community has enriched all aspects of our society, and continues to do so."
Italian immigrants in Canada and the Okanagan
The immigration of Italians to Canada is closely tied to political and social turmoil in Italy in the late 19th and early 20th Centuries. In particular, the rise of fascism under Mussolini changed the fortunes of many Italians, and some decided to immigrate to Canada to seek out new and safer opportunities. Many settled in communities in B.C., including Vancouver, Trail, Rossland, Revelstoke, Kelowna, Powell River, Duncan, and Vernon. The Okanagan's first Italian immigrant was Giovanni Casorso, who arrived in Kelowna in March of 1883, followed by his wife and children in 1884.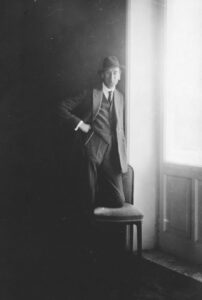 A duke immigrates to Vernon
Meanwhile, one of Vernon's most well-known Italian immigrants was Leone Caetani, father of Sveva Caetani, a celebrated local artist. Leone was born on September 12, 1869, to one of the oldest and most distinguished families in Italy. In addition to serving as Duke of Sermoneta and Prince of Teano, Leone was a gifted scholar with a degree in Ancient and Oriental Language and History, and fluent in 11 different languages.
Leone first visited Canada for a hunting trip in 1891, and was captivated by its natural beauty. This likely contributed to his decision to immigrate to the country in 1921 with Sveva and her mother Ofelia. As an avid socialist, Leone, like many Italians, was also no longer comfortable in post-war, fascist Italy.
The Caetani Family, with Ofelia's secretary and personal companion, Miss Jüül, and a small handful of staff, arrived in Vernon in the summer of 1921.
To learn more about the Caetani Family, click here.
To explore more of Vernon's history, check out our other blog posts!
Gwyneth Evans, Research and Communications Coordinator